Iloilo Gov. Arthur Defensor Sr. yesterday vowed to bring change to the provincial government by waging a fight against graft and corruption.
Defensor made the commitment in front of other provincial officials, department heads, local chief executives, Capitol employees, and guests
The Panay Electric Company has signed an agreement with Green Core Geothermal Inc. for the supply of additional 10 megawatts of power starting July 1, 2010, the PECO management announced yesterday.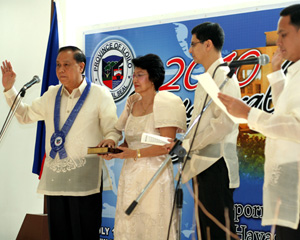 JACK TENTIA/PALI
Inspired by the Truth Commission created by President Benigno "Noynoy" Aquino III to ferret out the truth in all past government transactions, Iloilo City Mayor Jed Patrick Mabilog issued Executive Order No. 1 yesterday