Leadership by example to fight corruption: Defensor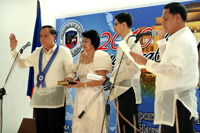 Iloilo Gov. Arthur Defensor Sr. (left) takes his oath of office before his son, Third District Rep. Arthur Defensor Jr., in the presence of his wife Cosette and their other son Lawrence.
Iloilo Gov. Arthur Defensor Sr. yesterday vowed to bring change to the provincial government by waging a fight against graft and corruption.
Defensor made the commitment in front of other provincial officials, department heads, local chief executives, Capitol employees, and guests during his inaugural address after he took his oath at the Iloilo Provincial Capitol.
The mission to fight graft and corruption could be attained through leadership by example, he said.
"We must bear in mind that working in government should not be an opportunity for personal and material gain. Working in government means personal sacrifice in order to be of service to the people," said Defensor, who was sworn into office by his son and namesake, Arthur Jr., who also succeeded his father as representative of the Third District.
The governor said that he will lead a government which is transparent and accountable just like what he had done when he finished his first three terms as governor from 1992 to 2001.
"With your help and cooperation, I know I can do it again," Defensor appealed to Ilonggos.
Defensor likened his assumption into office to the writing of a new chapter in the political history of the province.
"We want that chapter to endure and long remembered. May we fail in this effort but let us try to let it succeed," Defensor said.
CONCERNS, PROBLEMS
Defensor also acknowledged in his speech the power supply problem in the province. "We have started to address this problem. It is my hope that in the next few weeks we will see the light."
On health concerns, he noted that the provincial government-run hospitals in Iloilo have ceased to become hospitals for the poor.
"(It is very lamentable) that our hospitals have become an agency of the Department of Transportation and Communication (DOTC)… they only serve as transporters of patients to the city hospitals," Defensor said.
The governor urged the new Sangguniang Panlalawigan under Vice Gov. Richard Garin to immediately address the need to "bring back the hospitals to the service of the poor and the less-fortunate."
Defensor also promised to do his best to release the hazard pay of health workers.
In agriculture, Defensor said he will prioritize the increase in agricultural production and crop diversification, as he lamented that Iloilo has lost its distinction as a top rice-producing province.
He also assured the Ilonggos that he will revive the reforestation program which he started when he was governor before.
Defensor said he will also review, account and rationalize the existing manpower of the province to ensure efficient public service. "I want to know the performing and the non-performing, the irrelevant, the redundant, and the dishonest employees."
During the induction ceremony, Vice Governor Oscar "Richard" Garin Jr. was sworn into office by Gov. Defensor, along with Board Members Gerardo Flores and Macario Napulan, First District; June Mondejar and Demy Sonza, Second District; Licurgo Tirador, Third District; and Hernan Biron Jr. and Shalene Palmares-Hidalgo, Fourth District.
Board Members Emmanuel Gallar, also of the Third District and Nielo Tupas and Jett Rojas, of the Fifth District skipped yesterday's inaugural.