PURR
Let's Dance, Kids!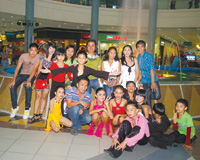 The contestants with Jun Cortel of JPC Productions (6th from left, standing).
Dancing is important to children. Apart from conditioning their body and build stamina through practice, dance is also a way of communicating through movement. By enrolling your children in dance classes, it gives them a high level of self-esteem and a positive outlook in life. The lessons, practices and even competitions, will teach them about dedication in order to pursue their goals as well as teach them how to deal with failures. Through dance, children are taught how to socialize and bond with others, increasing their number of friends.
They learn discipline, which they can apply in all other aspects of their life. That includes doing well in school. They are less likely to get into vices because they have something better to do.
Jun Cortel of JPC Productions, teaches kids to dance as well as perform on stage. For several years now, he had been handling the varied dance competitions being held at Robinsons Place Iloilo. One of these was "Let's Dance Kids", a dance sports competition for grade schoolers held at Robinsons Place Iloilo recently.
During the event, Grupo Latino de Oeste performed. They are set to perform at ABS-CBN's Showtime.