PURR
Hartman Dialysis Center opens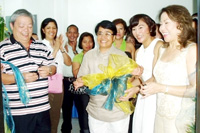 Roberto Suarez, president of Cebu RTK Fresenius (exclusive distributor of Fresenius dialysis machine made in Germany), Lani Palmares, manager of RTK Fresenius in Iloilo, Atty. Jun Borres, president of Hartman Dialysis Center, Dr. Blanche Garcia, partner and medical director of Hartman Dialysis Center and Felicidad Cabrillos, partner.
The Hartman Dialysis Center has finally opened in Iloilo City. Partners Atty. Jun Borres, Dr. Blanche Garcia and Felicidad Cabrillos, warmly welcomed the guests who came for the blessing and inauguration of this modern facility.
Hartman Dialysis Center aims to provide quality and cost effective hemodialysis treatment to advance or end stage renal disease patients through a caring and healing environment that utilizes state of the art equipment. They make use of the Fresenius machine. They also have credible nephrologists, staff nurses, technicians and a house physician.
Hartman Dialysis Center is located at Gen. Luna Street with telephone number 3018336.