I-TRAVEL
Harana Rewind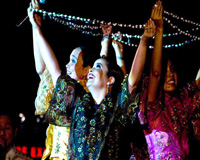 "Harana" means singing old Filipino Songs. These songs are of ethnic origin, coming from different parts of the country. These are the songs that my grandparents and yours used to sing in school, which also came from their folks.
Sometime ago, I used to go with a group that sang "harana" to a beautiful woman in a barrio. This group was composed of male artists who sang Visayan songs with guitar accompaniment. They expressed admiration to a barrio lass through these songs. This was usually done after dinner or late evening.
The "harana" has survived the times and until now, it is used to provide entertainment. Just like the one held at SM City Iloilo recently. Although it was a modernized presentation of "harana", the songs were still of old.
It was an entertaining and awesome presentation that encompassed all ethnic songs of the country.
The said treat was offered by the Heritage Foundation of Iloilo City, one that has stimulated nostalgia to all present.