Experiencing 3D in Robinsons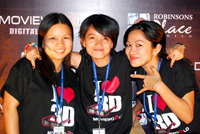 Robinsons Marketing Ladies Julie Ann Agilles, Anna Lovella Gonzales & Stella Mae Hembra.
Iloilo society's young and the young-at-heart were treated to fantastic sights and crisp, clear sounds with the official launching of Robinsons Movieworld in Digital 3D featuring the much-awaited Toy Story 3. This new digital 3D cinema at Cinema 1 boasts of state-of-the-art and latest 3D technology. Movies come to life as it showcases clearer images from every seat in the movie house.
Robinsons Movieworld in Digital 3D cinema will definitely change the movie-going habit of the Ilonggos.