PURR
Freedom to dance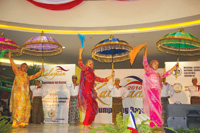 The indigenous dances and songs of Filipinos were showcased at SM City Iloilo early this month. Featuring the ECD Company, the event was the second installment for Kalayaan 2010, an Independence Day celebration spearheaded by the Regional Association of National Government Executives (RANGE) 6 and SM City Iloilo.
Luis Sorolla, first vice president of RANGE and president of Western Visayas College of Science and Technology, said that despite foreign influence, most of our dances and songs remain truly Filipino. He hoped that the event would awaken the public's nationalistic spirit as together, we journey to prosperity. "Be proud to be Filipino," he added.
Some dances that were featured were by the Igorots, Maranaos and Manobos.
* * *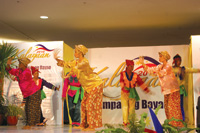 TRIVIA: There are no tribes in the Philippines. A tribe is a corporate descent group below the state in integration. Its first idea is the manner by which people explain their social and political organization where leadership is neither formalized nor permanent. It changes with history and political context. However, it is based on a concept of political identity through patrilineal descent. It is then associated with unilineal descent systems, usually patriarchal. Membership in a tribe is, therefore, well defined due to unilineal kinship. In the Philippines, technically, there are no tribes since the kinship system among Philippine groups is bilateral, although at times there is a matriarchal bias especially with reference to post-marital residences. This is the reason there are also no ancestors in the Philippine system since it is ego focused and not ancestor focused as in unilineal systems. It is for the same reason that terms clans or moieties cannot be used to describe Philippine societies since these refer to unilineal kinship forms. (Source: National Commission for Culture and the Arts)