The New SM Department Store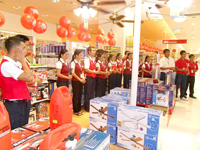 The staff of ACE Express Hardware during the store blessing.
THE public will enjoy shopping inside the SM Department Store after it is completely renovated. It's cooler, cleaner and more organized, thus offering more convenience during shopping.
The newly renovated SM department store (Phase 1 & 2) will provide a wide range of products that are normally available in department stores. These include apparel, cosmetics, jewelry, home and school supplies, customer service counters and leisure facilities.
Not only that, ACE Express Hardware is now inside the store. It offers a wide assortment of home furnishings and a lot more.
Complete renovation is expected to end this November.