Protasio, Peñalosa & Parcon at the Philippine Fashion Week 2010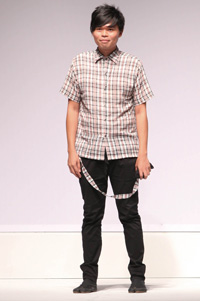 The designer, Don Protasio.
Don Protasio
His collection was inspired by the feeling of 'trying to occupy' and 'emancipate'. He translated those mood by reworking menswear codes like biker jacket, trenchcoat, waistcoat, etc. He also reworked the proportions in a play of layering. There's a conscious effort to use utilitarian details like belts and zippers. It was also inspired by the classic manga 'Naruto' and also the music of Floating Stone which he used on the runway. There's handwoven materials from Cambodia like silk and cotton. For his artisanal piece, a piece made by hand, he collaborated with a group that employ HIV+ women to crochet a sweater for him. He also used a bird print inspired by Edgar Allan Poe's 'The Raven'.
Jaki Peñalosa
For Holiday 2010, he presented a 10-piece collection of cocktail dresses in midnight blue and beige. Made from handwoven abaca, the dresses columnar and A-line silhouettes and are embellished with cascading geometric crystal and glass beadwork.
Bo Parcon
Amazonian warriors and armors served as his key inspirations for this collection. Pieces feature embellishments that subtly hint of traditional armor, and drapings suggest an air of regality, for a look that is both sexy and powerful. With his creations, he conjured the image of a woman who is alluring mainly because of her strength. Bo also celebrated man and woman's feminine and masculine sides through dichotomy in clothing.