TNT Capiz Bureau leads Blood Letting Activity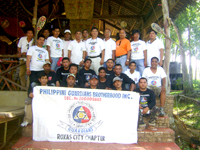 PGBI Roxas City Chapter. Commendable for being voluntary blood donors.
A laudable activity was recently conducted by THE NEWS TODAY CAPIZ BUREAU in coordination with the PHILIPPINE NATIONAL RED CROSS CAPIZ CHAPTER and the PHILIPPINE GUARDIANS BROTHERHOOD INC. (PGBI) ROXAS CITY CHAPTER when a Blood Letting Activity was held in Hillside Bar and Resto, Brgy. Malag-it, Pontevedra, Capiz last June 5, 2010.
The Red Cross contingent was led by Dr. Charlie Robles, chairman of the Board of Directors of PNRC-Capiz, and his daughter, Dr. Carla Robles, medical officer of PNRC. They were assisted by Rosel Lacson, medical technologist, and nurses Cielo Dile, Mahalaleel Faith Andrade, June Ray Bayhon, Helena Lallana, and their able driver Rey Alimen.
The blood donors from the Guardians, composed of retired military personnel and reservists, were organized by their president, Jonathan Saplan (PGBI Roxas City chapter). This is the second time that they have submitted themselves as voluntary blood donors, of which, the Red Cross is very grateful. As pointed out by Dr. Charlie Robles, there is a deficit in the availability of blood requirements. Despite the campaign for blood donors, the call is not heeded by our citizens. Thus, it is indeed praiseworthy when private organizations lead such activity because many will benefit from their blood donation.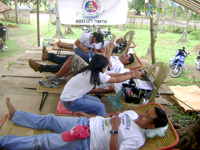 Voluntary blood donation to ensure safe quality blood.
Being a blood donor works both ways in terms of benefits. Not only the blood recipient will gain, but the donor as well, because of health benefits that blood letting will give to our physical well-being. As Doc Robles said, "our body also needs to change oil just like mechanical gears. The blood in our body thickens as we grow older, and bloodletting purifies it."
The Blood Letting Activity is going to be a regular civic pursuit of THE NEWS TODAY CAPIZ BUREAU under the helm of this writer. The bureau can greatly help in terms of information dissemination and organizing blood donors. The recent activity was also supported by Col. Virgilio Casio (PGBI Capiz provincial head), Hillside co-owner Jose "Pepe" Borres, and Rustico Ortiz, barangay chairman of Malag-it, Pontevedra, Capiz. This writer would also like to extend her thanks to Nelia Cartujano, PNRC chapter administrator, for her cooperation that made the activity possible. We look forward to continuous collaboration in the future!