Garden of the Ascension … our choice!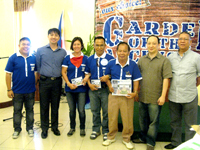 Top Agency Managers.
Garden of the Ascension held another successful sales gathering at the Grand Tower last June 5, 2010.
As usual, it was a lively event, thanks to the creativity of manager Jaresh Ng and his staff.
The event started with an energetic performance of the Tribu Pari-anon at the ground floor. Some tribe members greeted the varied agency managers with tribal beat and exotic dances as they entered the grand ballroom. The said agencies are Bilangdal, Bustillo, Collado, Direct Office, Salarda and Saplada.
Garden of the Ascension holds the sales gathering in order to update the sales associates about the ongoing and upcoming developments in the memorial park. Thus, President Francisco T. Alba, Jr. always makes it a point to be present in every sales gathering in order to give the sales associates his good news. This year, he was accompanied by Raffy Napilot, marketing director of Garden of the Ascension Tarlac.
Alba assured those present that the company continues to innovate and has improved its service by hiring a customer service representative. He also said that something big will take place on 10-10-10 (October 10, 2010), which marks the 10th anniversary of Garden of the Ascension.
That day, the company also gave awards to its top producers as well as awards and appliances to its 'Bagong Kaibigan' or new recruits.
The cheering was one fun part. Each agency was asked to cheer. But amid the competitive spirit, everybody has one yell for Iloilo City: "Garden of the Ascension. Our Choice!"