The Alerta Family Reunion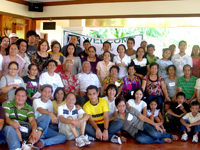 The Alerta Family Association during its reunion last May.
The Alerta Family Association held its 20th anniversary reunion at the Losanes Residence in Gran Plains last May. Everybody had a great time in the varied activities planned for that day, including a dip in the pool, singing, lunch, games, tracing of roots, raffle and fellowship.
Dr. Teodoro Robles, CPU president, offered his message for the Alerta family. He stressed that family reunions are all about perpetuating a family legacy and such can be achieved by knowing your roots, having children and celebrating family reunions.
The Alerta Family Association's officers are: Aurora A. Lim, president; Jonas A. Bellosillo, executive vice president; Luna P. Sombrano, vice president – Luzon; Ludy P. Losanes, vice president –Visayas; Ma. Liza B. Delicana, vice president – Mindanao; Sonja P. Suegay, secretary; Lea A. Celis, assistant secretary; Loue P. Losanes, treasurer; Dr. Florentino P. Alerta, assistant treasurer; Jo Zenda B. Villegas, auditor; and Ma. Victoria Bellosillo, PRO. The directors are Migan Alerta, Noel Alerta, Raul Alerta, John A. Jamelo, Jesus D. Lim, Sr., Dr. Loel P. Losanes, Ma. Fe A Pedronio, Allen Macasaet, Dr. Larry A. Regalado, Dr. Ernesto Rivera and Joey P. Suegay.