Biggest barbecue party on Father's Day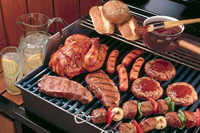 IF you're looking for the most splendid way to celebrate Father's day, you don't really have to worry anymore. All fathers would be overjoyed with this special treat that's guaranteed to make your family day all the more splendid.
This June 20, the most special day for all fathers, The Avenue, Iloilo's premier dining and entertainment destination brings to you "The Biggest Barbecue Party". This is going to be a perfect family bonding occasion amidst a super sumptuous barbecue buffet that will definitely give you unforgettable gastronomic fun.
This is going to be the biggest buffet party in Iloilo with the sumptuous inclusions that will take your Fathers Day celebration a pleasurable notch higher. Taste freshness with a medley of Organic Salads. Be tempted with the Fresh from the Oven bread delights of French baguette, crostini, focacia, and ciabatta. For the main course, you'll feast on an unforgettable Macadamia Crusted pan Seared Lapu-Lapu Fillet with orange brandy sauce. And of course, the mouthwatering Grill and Barbecue menu which include your all-time barbecue favorites of salmon, beef tenderloin skewers, pork chop, shrimp skewers, and chicken breast for a wonderful and sumptuous barbecue pleasure.
But it doesn't really end with barbecue. The Avenue Father's Day treat also offers an array of irresistible Pasta, and a load of heavenly desserts to cap your wonderful Father's Day dinner.
So, plan the best things for your beloved Dads this Father's Day. Surely, a sumptuous buffet dinner with your family will be a wonderful family bonding experience.
Biggest Barbecue Party will start 6:00 PM onwards at The Avenue. Tickets are available at Bauhinia Filipino Cuisine, Mojave Grill and Steakhouse, Amalfi Cucina Italiana, and Nothing but Desserts.
(The Avenue Complex is located at Glicerio Pison Avenue, Mandurriao, Iloilo City. Call Amalfi at 3295289; Bauhinia at 3296951; Mojave at 3295616; and Nothing but Desserts at 3295815).
= = = = = = = = = = =
Dressing up for a Summer Barbecue
Aim for comfort, ease and great style. Call your host or hostess if you need more direction.
Look for clothes that are easy to wear and easy to clean: cotton, nylon, blends and silk.
Think separates: shorts, skirts, easy shirts and the latest thinking in pants.
Wear lively, trendy pieces for summer barbecues, parties and backyard gatherings.
Set the mood with bright colors, big patterns and interesting materials.
Choose fun summer shoes: flip-flops, tennis shoes, sandals and slides.
Take along layering pieces in case the weather suddenly changes: sweatshirts, cotton sweaters, hooded jackets and big shirts.
For women, choose versatile twinsets in silk, lightweight wool, French terry and cotton.