Regina Townhomes I Blessing & Groundbreaking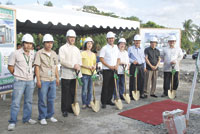 Eng'r. Joseph Asturias, Eng'r. Joel Gortayo, Fidel Rey Soliven, Hedy Sarrosa, Dave Sarrosa, Cynthia Claparols-Rodriguez, Wilfredo Semolava, Alan Serantes and Teddy Magalona prior to the groundbreaking.
HAVING quality town homes in Bacolod is now a reality with the groundbreaking and blessing of Regina Townhomes I recently.
The event was attended by the officers and members of Regina Townhomes I developer, Salvacion Insfrastructures and Development Corp. headed by its president and chairman of the Board Edgardo Sarrosa, Vice-President Alfredo Luis Sarrosa, landowners – Rolando and Cynthia Rodriguez, Managing Project Proponents Jose Antonio Magalona and Fidel Rey Soliven III.
A reception followed at Sugarland Hotel with Mr. Magalona welcoming everyone present and Wilfredo Semolava, Pag-ibig Fund Bacolod Branch Manager III as guest of honor and speaker.
Regina Townhomes I is the first to use the World Bank endorsed building system, Sterling. Such guarantees that your housing units will not only be built with quality and on time but is three to four times harder than concrete hollow blocks. It is a building system that will assure the buyers that their home will last far beyond the duration of 30 years. Have housing units designed to retard, if not prevent, cracks to your walls.
Regina Townhomes I is flood free. All units come in two-storey townhomes with a carport and service are at the back of the property. It has a clubhouse and playground. There are only 140 residences in this gated enclave.