Painting the Ajuy mangroves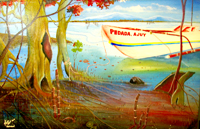 Richmond Banaban.
SOME 30 Ilonggo artists brought canvases, paints, brushes and other paraphernalia to Ajuy, Iloilo to paint the mangroves of Pedada Bay recently. The Bay has 90 hectares of mangroves dominated by the species pagatpat (scientifically known as Sonneratia alba) which was featured on the front page of a major daily last year.
The event "An Art Interaction with the Environment" was jointly organized by the Community-based Mangrove Rehabilitation Project in the Philippines (CMRP) of the Zoological Society of London (ZSL), in partnership with the Local Government Unit and Tourism Office of Ajuy, to celebrate the Month of the Ocean. The CMRP aims to increase coastal protection, food resources and livelihood income through sustainable management of mangrove forests. Toward this end, the ZSL has helped organize the Brgy. Pedada Fisherfolk Association (BPFA), a cooperative of 204 members which aims to conserve and rehabilitate mangroves by setting up nurseries, planting seedlings and saplings in degraded areas, establishing breakwaters (to protect growing plants), and constructing a footwalk for mangrove ecotourism.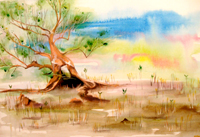 Ma. Soledad Alquizar.
The artists belong to the Arts Association of the Philippines, Tatsulok Artisans, Kurit Ilonggo, University of San Agustin Fine Arts Majors and other art groups and were assisted each by two BPFA fisherfolk members. With their increased mangrove awareness, the artists are planning downstream activities such as planting and maintenance of seedlings, according to PG Zoluaga who planned the painting session together with ZSL staff.
To share with the wider public such beauty of mangroves captured on canvas, the paintings were on exhibit at the SM City Iloilo last June 4.