PURR
Dining at Mooon Cafe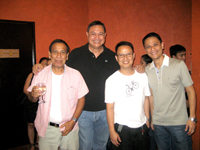 Ondoy Zaldarriaga, Bunny Pages, Jan Richard Zaldarriaga and John Pages.
Dining at Mooon Cafe (yes, it has three O's) during its pre-grand opening date proved to be a worthwhile gastronomic experience. Our Marketing Officer Claire and I were joined by Rowena Diaz and fellow journalist Lydia Pendon. Mooon Cafe manager Ondoy Zaldarriaga warmly welcomed us as well.
A restaurant that specializes in Mexican food, Mooon Cafe is spacious, it has striking artworks and filled with vibrant colors, thus it was a comfortable place to dine in.
We had Tuna Belly, which is grilled marinated tuna belly topped with onion rings and garlic. It's served with buttered vegetables, with a choice of native sauce or lemon butter sauce. Another treat was Chicken Mozzarella Melt, which is fried chicken fillet sprinkled with mozzarella cheese, sauteed chopped tomatoes and served with rice.
Some Mooon Cafe treats include: Chimichanga, Quesadilla Uno, Quessadilla Veracruz, Beef Burito, Campesinos, Nacho de Salsa, Beef Taco, Fish Taco, Burito Pescado, Campesinos Jalapeno, Chicken Flautas and Nacho Spinners.
Mooon Café also offers for their main course, the popular Mooon Steak, Beef Tips, Pork Belly, Pork Chop, Peppered Beef, Mexican Baby Back Ribs and other Mexican dishes. Fish lovers will love Fish Mozzarella Melt, Blue Marlin, Tangigue Steak and Breaded Fish Fillet. The restaurant also serves cocktails and drinks.
For those who are wondering about the three O's in the restaurant's name, they represent the three previous owners. The cafe had been in Cebu's restaurant scene for 10 years before it was acquired by Pages Holdings Inc. Bunny Pages, its president, came to Iloilo and welcomed guests during another dinner at Mooon Cafe.
Mooon Cafe is located at Robinsons Place's Paseo de Iloilo.