Mass in honor of St. Escriva slated June 25 in Iloilo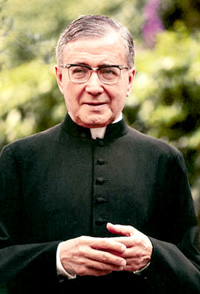 Saint Josemaria Escriva
There's a solemn mass today in Miag-ao
The public is invited to a concelebrated solemn mass in honor of Saint Josemaria Escriva on June 25, Friday, 6:30 PM at the Jaro Cathedral. The mass will be celebrated in honor of St. Escriva's feast day and the Most Rev. Archbishop Angel Lagdameo will be the main celebrant.
A Holy Mass in his honor will also be held today, 5PM at the Parish Church of St. Thomas of Villanova in Miag-ao, Iloilo.
Confessions will be heard one our before the solemn mass.
St. Escriva is the founder of Opus Dei, a personal prelature of the Catholic Church. Its aim is to contribute to the Church's evangelizing mission by helping all kinds of Christian faithful to live fully in accordance with their faith in life's ordinary circumstances, and especially to sanctify their daily work.
St Josemaria explained, "God raised up Opus Dei in 1928 to help remind Christians that, as we read in the book of Genesis, God created man in order to work. We have come to point to the example of Jesus, who spent thirty years in Nazareth, working at his job. In Jesus' hands, work, an ordinary job like that done by millions of people throughout the world, becomes a divine task, a redeeming job, a path of salvation."
The spirit of Opus Dei reflects the marvelous reality that any honest and worthwhile work can be turned into a divine occupation. Sanctifying one's work means working in the spirit of Jesus Christ – doing one's work well and finishing it off, to give glory to God and serve others, and so help sanctify the world, by bringing the spirit of the Gospel into all human activities.
Josemaria Escriva was born in Spain on January 9, 1902 and died in Rome on June 26, 1975.
Quotations
The following are some quotations by St. Escriva, sourced from http://www.josemariaescriva.info.
"You and I belong to Christ's family, for he himself has chosen us before the foundation of the world, to be saints, to be blameless in his sight, for love of him, having predestined us to be his adopted children through Jesus Christ, according to the purpose of his Will (Eph 1:4-5). We have been chosen gratuitously by Our Lord. His choice of us sets us a clear goal. Our goal is personal sanctity, as St. Paul insistently reminds us, haec est voluntas Dei: sanctificatio vestra (1 Thess 4:3), this is the Will of God: your sanctification. Let us not forget, then, that we are in our Master's sheepfold in order to achieve that goal."–Friends of God, 2
"Sanctity is made up of heroic acts. Therefore, in our work we are asked for the heroism of finishing properly the tasks committed to us, day after day, even though they are the same tasks. If we don't, then we do not want to be saints."–Furrow, 529
"Certainly our goal is both lofty and difficult to attain. But please do not forget that people are not born holy. Holiness is forged through a constant interplay of God's grace and the correspondence of man. As one of the early Christian writers says, referring to union with God, "Everything that grows begins small. It is by constant and progressive feeding that it gradually grows big". So I say to you, if you want to become a thorough-going Christian – and I know you are willing, even though you often find it difficult to conquer yourself or to keep climbing upwards with this poor body of ours – then you will have to be very attentive to the minutest of details, for the holiness that Our Lord demands of you is to be achieved by carrying out with love of God your work and your daily duties, and these will almost always consist of small realities."–Friends of God, 7