PURR
Trash to Crafts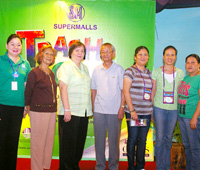 SM City Iloilo Mall Manager Majella Libo-on, Emilia Drilon, Solid Waste Management Board Vice-Chair Marisa Segovia, President of FSCAP Gerardo Canonero, GSO's Salome Villamor and Uswag Recycler's Josephine Alcantara & Lorelie Secatin.
INSTEAD of throwing away your garbage, use it again by turning it into something beautiful and better yet, income-generating.
SM City Iloilo, in partnership with the Uswag Calajunan Livelihood Association, Inc. and the Solid Waste Management Board, shared how to make crafts out of trash.
The audience, comprised of representatives from the Sangguniang Kabataan and the Senior Citizens Association, learned how to make jewelry, bags and paper briquettes as alternative to charcoal.
The bags are made from doy packs (tetra packs) which are retrieved from public cemeteries, schools and sometimes, the Calajunan dumpsite. The collected items pass through quality control inspection, cleaned and sewn into bags, folders, pencil cases and wallets. These bags are sold in Japan.
The jewelry are made of old cardboards, which are normally donated. The cardboards are cut into thin and long strips, rolled into balls and fashioned into jewelry like necklaces and bracelets. These products are popular in Japan as well. These, and the bags, are also bought as souvenirs during conventions held in Iloilo City.
The alternative to charcoal are the paper briquettes made from unused paper. These are shredded, soaked overnight in water, formed into oblong-shaped balls and sun-dried for three days. After that, they are ready to use.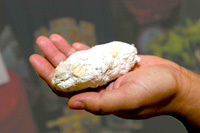 A paper briquette, an alternative to charcoal.
A related exhibit took place in SM City Iloilo for one week. Bags, jewelry, paper briquette, vases, and more, that are made from recyclable materials, were on exhibit at the lower ground floor of the said mall. On exhibit were products by Uswag and the inmates of the Iloilo District Jail.
By recycling, underprivileged persons like the residents of the Calajunan dumpsite, are given an alternative and sustainable livelihood to make them better members of society. Also, it is one way of helping save the environment and reduce household expenses.