LG goes island shopping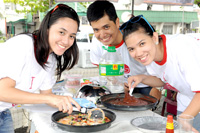 LG executives prepare foods for the Iloilo house guests.
THE back of a truck may have been the last place Ilonggos thought of when the news spread about on-the-spot singing, cooking and laundry going on. But disbelief quickly turned to excitement at the sight of the LG Caravan decked to the hilt with home electronics, appliances and mobile communications rolling into Iloilo City's streets recently.
LG, aiming to be the world's best at enriching lives through innovation, is aggressively taking its products on the road of various Philippine islands to bring reliable and innovative products that discerning Filipinos truly deserve.
"We are on island sHopping with one goal in mind – to provide a premium lifestyle for you and your family, no matter where you live," said Raymond Hernandez, corporate marketing head of LG Electronics Philippines.
"Bringing the Good Life closer to your home" is the intent behind the ongoing mobile event dubbed "LG Goes Island sHopping." This showroom-on-wheels evokes the feel of Philippine street festivals with public offerings such as celebrity concerts, outdoor film screenings, and dance-and-song competitions. This includes chances for product experience such as a free-laundry day that early birds can seize as well as bundle promotions such as free cable installation or DVD player with a TV purchase.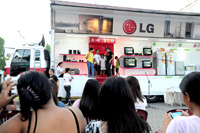 Locals watch their fellows participating in the LG Caravan contest.
"The LG Caravan was a virtual experience on how stylishly designed technology can enrich my family members' lives," said local resident Alicia Dedoro. "Their elegant TVs, the smart water-and-energy consumption of their washing machines, the high energy saving of their air conditioning, or their ref's green ion door cooling that keeps food fresh longer—why, it was literally a truckful of treats!"
Mr. Hernandez said, "LG's customers have the uncompromising attitude of demanding the best for their families and themselves. The caravan invigorates people as it brings them into contact with LG's smart-and-stylish choices. Filipinos all over the country recognize the brand by its distinctive smiling logo and phrase 'Life's Good' because, at LG, product innovation is about anticipating or answering a need that enriches Filipinos' lives."
Catch the LG Caravan in Iloilo before it drives off to board a RO-RO for its Cebu rounds.