Robinsons Design Lab 4th Run Finals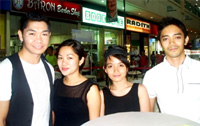 Noi Ditchon of Bambini with Robinsons Place Iloilo's Stella Hembra, Anna Gonzales and Rofel John Parreno.
Robinsons Place Iloilo will hold the 4th Run of Robinsons Design Lab tomorrow, June 25 at the mall's fountain area. Four young designers – Cristine Jimenea, Aisha Penalosa, Uer Joe Pabiona and Franco Malay will show off their designs in order to win the coveted title of being Robinsons Place Iloilo's premier young designer for the year.
They were presented before the media last June 16 in a Bambini-sponsored presscon and launch. They presented varied designs that captured the essence of four of Bambini's Naughty and Nice scents like Hot and Spicy (Cristine), Prim and Proper (Uer), Pure and Simple (Franco) and Wet and Wild (Aisha).
Noi Ditchon of Bambini said that their company is happy to support the Robinson Design Lab 4th Run because is in tune with their new product, Naughty and Nice fragrances. Like Robinsons Design Lab, Bambini innovates and creates. Bambini's Naughty and Nice is such, with its oil-based content, thus it lasts longer.
Check out what these four designers are up to tomorrow, 4PM at the Robinsons Place Iloilo fountain area.