Iloilo Prima Galaw Turns 2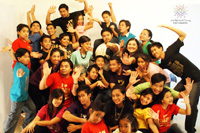 Iloilo Prima Galaw.
Iloilo Prima Galaw, the performing arts group founded by Ilonggo stage director and choreographer Romie John "SIR D" Delariarte in 2008, celebrates its 2nd year anniversary with a musical production entitled "Better TWOgether" and an art and photo exhibit in Iloilo's top malls.
DREAM. DISCOVER. INSPIRE. This is what each Prima Galaw artist always strive to do. Keeping up to speed and right on track, we have expanded our talents' circle to include promising children and teenagers who have successfully undergone our creative workshops and auditions. They are sure to heat up the stage with their fresh faces and boundless energy. The senior artists lend their expertise and experience in training the newbies in music, dance, visual arts and theater – a beautiful way of paying it forward so that Iloilo Prima Galaw continues to grow each year. As for the senior artists, they are continuing to hone their craft by looking for more challenging materials and attending other workshops on the aspects of production and performance. Surely, the group becomes a wellspring of talents who have the passion for the arts and heart to share.
Our socio-civic involvement is a big part of our commitment as Iloilo Prima Galaw artists. Conducting creative workshops for students in various schools in Iloilo and in our adopted communities such as the Dominican Girls' Home, Center for the Care of the Mentally Ill and Calahunan youth is both artistically and emotionally rewarding for us. With the guidance and encouragement of our mentor and friend, Sir D, we hope to continue our work in youth development and education as well as doing our role in community building through the arts.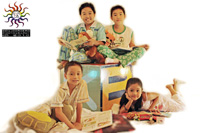 The IPG Kids.
THE JUMPSTART. In 2008, Iloilo Prima Galaw (IPG) had successfully staged its first grand play with Al Rustia's Ang Sistema Ni Propesor Tuko. Due to an overwhelming audience turnout, a re-stage was produced last December 2008 with representatives from the Cultural Center of the Philippines in attendance.
THE BLESSINGS. 2009 was a grace-filled year for Iloilo Prima Galaw. We were the National Awardee of the TEN ACCOMPLISHED YOUTH ORGANIZATIONS of THE PHILIPPINES, the TELETECH Special Awardee on Youth Development and Education and the recipient of Mayor Jerry Treñas' citation for Achievement in the Culture and the Arts. We joined CCP's Sagip Sining: Art to the Rescue where we performed our musical HIYAW at the Tanghalang Huseng Batute.
The versatility and creativity of the Prima Galaw artists and the enthusiasm of the Ilonggo audience for quality local productions were proven with the successful staging of Sophocles' classic tragedy, Oedipus Rex in September 2009. February 2010 marked Iloilo Prima Galaw's first original production of the Post-Valentine musical drama entitled, A Night For a Little Romance written by yours truly.
BETTER TWO-gether. For 2010, Iloilo Prima Galaw has collaborated with St. Paul's Hospital for the musical extravaganza entitled 100…Celebrating Milestones through Music, with St. Paul School Barotac Nuevo's Cradle of Dreams, and with St. Anthony De Padua Parish, Barotac Nuevo. We also launched ROCK FOR THE EARTH, a project for the environment to promote awareness and conservation through the arts. One of the highlights of the said project and something our loyal theater patrons should look forward to in September 8, 9 and 10 is our elaborate stage production of the Disney classic, THE LION KING at the CAP Auditorium.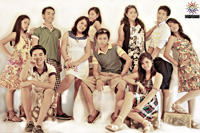 The IPG Teens.
Iloilo Prima Galaw is part miracle, part adventure for us. Our adventure started with a dream. Our goal was to fulfill that dream and we did! Where we are now is a testament to the possibility of dreams, the power of inspiration and the faith that this is our God-given purpose. Our hearts sing with gratitude to you, who continue to DREAM BIG with us, believe in us and inspire us in our journey. In this journey, we are grateful to have met people whose dreams we share and in our own way, these dreams, we have helped to fulfill.
We are a work in progress and it is exciting to see our dreams come into fruition with each year. Don't get me wrong. The path we are taking is never easy. In the words of a famous writer, it is the road less traveled but somehow, it has made all the difference.
Iloilo Prima Galaw celebrates TWO YEARS of COMMITMENT to PASSION, EXCELLENCE and FRIENDSHIP. The key is to commit to ONE DREAM, TOGETHER. For now, it could not get any better than this and we THANK GOD for the gift of talents and the blessing to share. Here's to BIGGER and BETTER DREAMS!