I-CHING
The Fire: Hexagram 30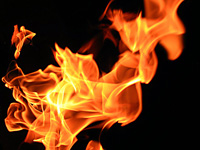 Persistent correctness advantageous. Caring for the source of one's sustenance brings good fortune.
VIOLATION OF THE RULE
When one attends too much to specialization, one leans towards extremes. This may show that one is too narrow in one's perspective. This may even appear that one is an extremist in one's views.
It may appear that one is too devoted to one's area of interest.
The blind side is that one is not circumspect in one's dealing with matters that of great concern because one is used to focus one one part of the subject only.
This is dangerous for those who are inclined to be violent.
Another point also is that when one is separated from one's area of interest, one becomes useless for one is not flexible enough to adapt to changing circumstance.
OBSERVATION OF THE RULE
One needs to be flexible and be a generalist.
This will ensure that one will be able to deal with any possible changes that may occur in one's environment.
This flexibility will safeguard one from being useless in the end.
This generalist perspective will give one the leverage to jump from one source of livelihood to another thereby ensuring one's existence.
By preparing for the unknown future, one will not be taken unprepared.
By having a generalist perspective, one is able to see different angles of perspective and thereby be able to prepare for the unknown future.
We do not wish to go with those who are narrow minded, in the end.
Other suggestions:
Follow the middle way.
The beauty of sunset is transient.
Meteoric clarity is inadequate.
Overcome fears through clarity.
Make corrections with clarity.
Any queries may be sent to: desrtpalladin@aim.com