Katunggan: An Exhibit On Mangroves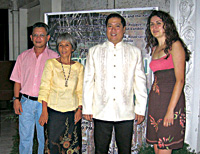 Engr. Nilo Hinojales of Ajuy LGU, Dr. Jurgene Primavera, Mayor Jed Patrick Mabilog and Natalie Jaworska of ZSL.
June 11 to July 16, 2010
Ground Floor, UPV Art Gallery
The UPV Chancellor's Committee for Culture and the Arts, in collaboration with the Community-Based Mangrove Rehabilitation Project (CMRP) in the Philippines of the Zoological Society of London (ZSL), opened the exhibition Katunggan (Mangroves) on 11 June, 5 pm, at the University of the Philippines Visayas Art Gallery, Iloilo City campus.
Katunggan features works on canvas of 26 Ilonggo visual artists showcasing the scenic mangroves of Pedada Bay, Ajuy, Iloilo. The exhibit is a culmination of the concluded event, An Art Interaction with the Environment, jointly organized by the CMRP of the ZSL and the Local Government Unit and Tourism Office of Ajuy and participated in by the Ilonggo artists on May 24, 2010 in celebration of the Month of Ocean. This is in line with CMRP's project and goals of increasing coastal protection, food resources, and livelihood income through the sustainable management of mangrove forests.
The artists, namely Edmar Colmo, Lester Amacio, Jzy Tilos, Jason Bandong, PG Zoluaga, Ma. Soledad Alquizar, Allain Hablo, Yannie Rose Noble, Allen Centina, Elysar Arlos, Jeff Modilla, Rona Joy Asis-Loma, Melvin Guirhem, Christine Marian Dumas, Leoniel Cerbas, Jonas Mark Siva, Enrico Isiderio, Marrz Halley Capanang, Cezar Arro, Alex Ordoyo, Rheo Nepomuceno, Frank Alexi Nobleza, Alyssa Ashley Baguio, Joebecca Allares, Richmond Banaban and Edward Defensor are members of the Arts Association of the Philippines, Tatsulok Artisans, Kurit Ilonggo, University of San Agustin Fine Arts Majors, and other art groups in Iloilo City.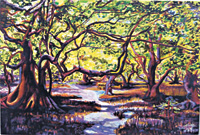 Ajuy Mangrove Trail by Yannie Rose Noble.
Dr. Jurgene H. Primavera, CMRP Project Leader, Engr. Nilo Hinojales of the Ajuy LGU, and Dr. Jane Geduspan, UPV Vice Chancellor for Research and Extension, were the guests of honor during the opening program. Iloilo City Mayor-elect Jed Patrick E. Mabilog also came to grace the opening of the exhibit.
Katunggan is curated by Prof. Vicente R. Tan and will be on view until 16 July 2010. UPV Art Gallery hours are from Monday to Friday, 8:30 AM – 12:00 NN and 1 PM–5 PM./ Fryia Jaye T. Guzman/ CCCA