As election day nears, the plot to topple down Iloilo City Mayor Jerry Treñas escalates. Yesterday, Treñas revealed to have received reports of an assassination plan against him.
Transport groups under the Ilonggo Transport Solidarity Forum (ITSF) yesterday officially endorsed the candidacies of Mayor Jerry Treñas and Vice Mayor Jed Patrick Mabilog, for congressman and mayor, respectively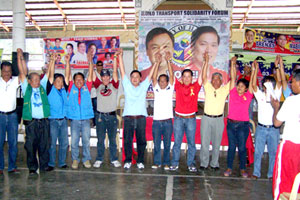 EC GARCIA
The Nacionalista Party (NP) yesterday said it was the late former president Corazon Aquino who gave the Ampatuan clan's patriarch, Andal Sr., the break he needed in politics during her administration when he was appointed as an OIC mayor.