Focus on Autism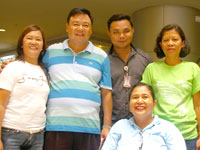 ASP-Iloilo with Mayor Jerry Trenas and Dolly Laudenorio (seated).
ASP-Iloilo leads 3rd World Autism Awareness celebration in Iloilo
"They say that God gives special children to special people. I truly believe that parents of children with autism are some of the greatest caregivers in the world. I know it is a tough honor but it surely is worth living up to. Every child with autism deserves nothing less," said Dr. Celina Gellada, developmental behavioral pediatrician. She spoke during the 3rd World Autism Awareness Day celebration at SM City Iloilo last April 9, 2010.
Gellada urged the public to share the common task of creating a better and brighter future for these children.
Dolly Laudenorio, head of the Office of Persons with Disabilities Affairs (OPDA), gave the ASP-Iloilo an assurance that a budget had been allotted by the office for the purpose of providing a better future for children with autism. She also shared that two non-government organizations, Handicap International and JICA, are providing Iloilo with community-based rehabilitation (CBR). "We orient the barangay officials in terms of determining persons with disabilities (PWDs) in the barangay level. We have finished four districts and there's two more this April. This is supported by the local government, stakeholders and line governments. Also, we have an upcoming medical mission and we will tap the ASP-Iloilo as a beneficiary," she said.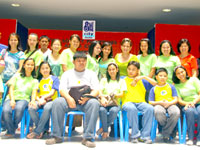 ASP-Iloilo Chapter and students.
Mayor Jerry Trenas pledged the continued support of the city government to ASP-Iloilo "in order to advance the well-being of Ilonggos with autism." He advised parents and guardians to have autism diagnosed and have the child receive intervention early so that they will be easily integrated to the mainstream and so they could develop their talents. "Their disability is not a hindrance to their dreams and goals," Trenas said.
Before the inspiration speeches were made, varied children with autism showed their talents in singing and dancing.
The ASP-Iloilo and their supporters took part in a motorcade from Jaro Plaza to SM City prior to the talent show.