Mark's magic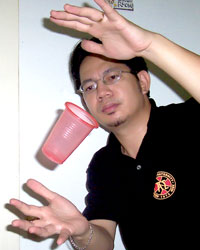 Mark Vincent Java and the levitating cup.
Mark and his fellows at the PBM, are presently holding a workshop for young magicians at the Amigo Plaza Mall
If you've been to Amigo Plaza Mall lately, you may have noticed a man in eyeglasses seated at a table at one side of the mall's activity center. If a child happens to pass by his table, he'll show his tricks and the child would watch in awe.
He's Mark Vincent Java, a magician and the president of the Philippine Brotherhood of Magicians.
According to Mark, he started having magic as a hobby when he was in grade school when a friend showed him a trick. "I begged him to tell me the secret and he did. That was my first magic experience and I instantly caught the magic fever and it stuck to me eversince," said Mark.
During college, Mark was a member of the UP Manila Magic Circle, a small group of magic enthusiasts. He learned most of his tricks from his fellow members. "We usually meet during our vacant periods at the Pi Sigma Tambayan because most of the members are also my fraternity brothers," Mark narrated.
Being a magician means that you can also entertain. And for Mark, his ability has endeared him to many people. In fact, he has used magic in courting. "I only use the cute mini tricks. Some serious magic can be quite disturbing and some girls will think you're a freak if you make her fried chicken levitate on your first date," Mark said, laughing.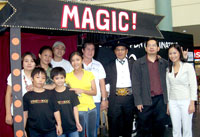 Mark (second from right) with fellow magicians and students during the Street Magic graduation.
Speaking of which, Mark's favorite magic is levitation as well as mentalism. "I think people react strongly to these forms of magic. Almost everyone wants to see someone or something defy gravity and I assume everyone is also interested to know if psychic powers are real." The writer, for one, has seen Mark levitate and it was a weird experience.
It's been said that magicians are known to keep secrets of their magic even from their wives. But for Mark, "My wife knows all my secrets. And I mean, all."
Mark said that magic is a good hobby. "It increases your awareness of the limits of human perception and expands your imagination like no other hobby can."
Magic is becoming a popular hobby for many kids. Mark and his fellows at the PBM, are presently holding a workshop for young magicians at the Amigo Plaza Mall. They teach the children the fundamentals of magic and illusion, patiently providing them with easy step by step instructions.
For more information, contact Mark at 0918-3290-195 or 3297477.