Love's Faces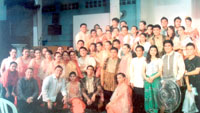 SPUI Velada 2010 cast.
To celebrate love and its different faces, Saint Paul University of Iloilo presented a dance musical entitled "Mga Nawong sang Gugma" recently. Held at the university's multi-purpose gym, the event was a fund raising for SPUI's new site in Ticud, La Paz.
There were modern and folk dances as well as chorale and solo singing from the students of the university, Wellness faculty and some guest performers.
The show's director was Mary Jane de Gracia; associate director, Claudette Anne Cormary; artistic director, Faith Javellana; and executive producer, Sr. Carolina Agravante, SPC.