A very good year for Globe Telecom shareholders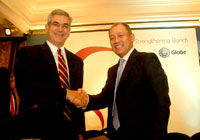 Globe Chairman Jaime Augusto Zobel De Ayala and Globe President and CEO Ernest Cu.
Last April 12 at the Globe Telecom Annual Stockholder's Meeting, it was reported that Globe had an audited net income of P12.6 billion, higher than 2008. This growth was achieved despite a weak economy and continued intense competition. Consolidated service revenues were at the P62.4 billion compared to the previous year's P62.9 billion. Strong performances from the company's broadband and corporate data businesses offset soft mobile results.
The mobile industry slowed down sharply in 2009 with industry revenues rising 1% in contrast to the almost 6% growth of the prior year. Meanwhile the broadband industry remained on rapid growth with industry subscribers estimated at 2.5 million, a three-fold improvement from 2007 levels.
Globe Telecom delivered superior returns to its shareholders. Return on equity reached a record-high of 26%, marking the fourth consecutive year the Company achieved ROEs in excess of 20%. Globe paid out a total of P 15.1 billions in cash dividends in 2009, giving its shareholders a highly- competitive dividends of 14%. With the 16% improvement in its share prices, Globe's total shareholder return (TSR) was at 30%, outperforming the broader MSCI Asia- Pacific Telecom index, which is composed of 32 telecom stocks in the region. The Company ranked fourth in TSR among these companies, which Globe's 30% return comparing favorably against the 32-company average of just 3.5%.
For 2010, the company expects competition in the telecommunication sector to remain intense. Price's earning pressures will remain mobile industry growth slows, and given subscribers' increasing preference for value offers. The broadband market, meanwhile, is expected to continue growing at a robust pace with the increasing affordability of PCs and laptops, and wider availability of prepaid broadband services across the country.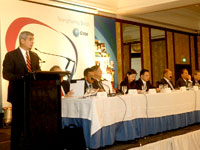 Globe Chairman Jaime Augusto Zobel De Ayala leads the panel of the board of directors during the Globe Annual Stockholders' Meeting
Globe Telecom will sustain its efforts to gain share of spend and improve its market position in the mobile segment. The company will remain focused in improving customer service, enhancing network quality, introducing game-changing products offers, and maintaining a pervasive distribution network. Globe Telecom will also continue with its broadband-capacity built to sustain its growth momentum in the internet space. The Company is allocating about $ 500 million in capital expenditures for 2010. This includes amounts to sustain the company's mobile telephony business, as well as amounts to augment existing capacities and expand the coverage and footprint of Globe DSL, WiMax, and 3G broadband services. The 2010 capex plan also includes amounts for corporate fixed line data networks, which primarily caters to the corporate and enterprise sector. Finally, the investment plan includes the cost related to Globe's participation in the new Southeast Asia Japan Cable (SJC) System, which will link the country to Singapore, Hong Kong, Indonesia, and Japan and, which will further increase the capacity and boost resiliency of Globe's international network. The SJC system is expected to be operational by 2010.