Transport groups endorse Treñas, Mabilog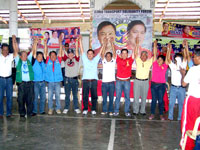 Transport leaders under the umbrella of Ilonggo Transport Solidarity Forum (ITSF) raise the hands of City Mayor Jerry Treñas and Vice Mayor Jed Patrick Mabilog to endorse their candidacies for congressman and city mayor, respectively, at the Jaro Plaza covered gym.
Transport groups under the Ilonggo Transport Solidarity Forum (ITSF) yesterday officially endorsed the candidacies of Mayor Jerry Treñas and Vice Mayor Jed Patrick Mabilog, for congressman and mayor, respectively, in front of their more or less 400 leaders, officials and members at the Jaro covered gym.
ITSF boasts of four big alliances of transport organizations coming from Iloilo City Alliance of Drivers Associations (Icada), Alliance of Panay Taxi Operators and Drivers Associations (Aptoda), North South Baluarte Taxi Drivers Association (Nosobatada), Federation of Iloilo City Tricycle Drivers and Operators Association (Fitoda) and the Ilonggo Trisikad Drivers Alliance (ITDA).
The Icada, composed of 16 city-loop organizations, boasts of more than 1,000 individual members, with Nick Dalisay as president.
The Aptoda, led by its president Benjie Clavel, has 200 individual members who are mostly small taxi operators and their drivers.
There are 1,000 tricycle drivers, led by Mario Silvederio, who make up the 30 associations within the FITODA.
The ITDA, led by Rodel Canilao, has 650 individual members comprising 40 associations.
Dalisay, convenor of ITSF, said their group decided to endorse Treñas and Mabilog because they see in the duo the spirit to uphold the interest of the transport sector.
Dalisay said Treñas and Mabilog had always maintained an open mind in dialogues with transport groups and has demonstrated sincerity in addressing transport problems.
Both Treñas and Mabilog, in their acceptance speeches, thanked the transport groups for their support and endorsement.
Mabilog committed to the transport groups to harness the cooperatives and training centers in order to boost livelihood projects and to promote the rights of the transportation sector.
Meanwhile, Dalisay said that he is leaving to their members the choice on whom to support for vice mayor and councilors.
He said their members have their choice but they prefer that their members pick their candidates from the Team Uswag or Team Palangga.
Team Uswag has its own set of candidates for councilor with Joe Espinosa III as vice mayoral bet while Team Palangga also has its own candidates for councilor with Julienne "Jam" Baronda as vice mayoralty bet.
Both the Team Uswag and Team Palangga carry the Treñas-Mabilog tandem.