Iloilo Governor Niel Tupas Sr. will push for the declaration of Western Visayas under the state of calamity amid the onslaught of the El Niño phenomenon affecting five out of six provinces in the region including Iloilo province.
Tupas made the pronouncement after his meeting with the Department of Agriculture (DA) officials to determine the extent
As a follow up to the success of last year's ONE Visayas Celebration held in Cebu City, the Regional Development Councils of Eastern, Central and Western Visayas will hold the 2nd ONE Visayas Celebration on March 11-14, 2010 in Roxas City to be hosted by the Province of Capiz.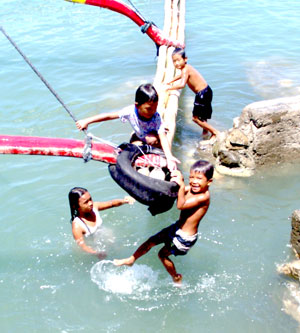 TNT FILE
A police major is now under investigation for allegedly harassing residents of Brgy. Pala-Pala Zone 2, Iloilo City over the weekend.
No less than PNP Regional Director Chief Supt. Isagani Cuevas wanted that an in-depth investigation be conducted against Chief Insp. Musa Amiyong, deputy chief of the Iloilo City Public Safety Management Company.