The Nazaria Lagos Day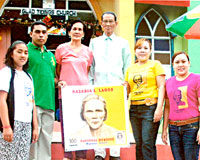 The Lagos family of Duenas. From left are Faith, Franklin, Ruth Joy, Rev. Ramon Lagos Jr., Joy and Nazaria "Charie."
December 23, 2009 was the Nazaria Lagos Day and Thanksgiving Day of Barangay Jaguimit, Duenas, Iloilo.
By virtue of Barangay Resolution No. 54 of the Sangguniang Barangay of Barangay Jaguimit, Duenas, Iloilo, the officials adopted a resolution declaring December 23 every year as Nazaria Lagos Day in honor of the late national heroine.
Nazaria's philantrophic act, nationalism, patriotism and love of country will always be remembered from generation to generation.
Nazaria Lagos was known as the "Florence Nightingale of Panay", who not only became a mother of her own children but to many wounded Filipino soldiers during the war.