A colorful Chinese New Year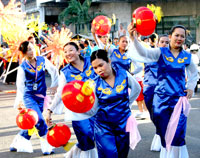 The celebration of the Chinese New Year last February 12, a Friday, was a colorful and grand one. It started with a parade from the Provincial Capitol Area, passing through Iznart and JM Basa streets, and ending at the Plazoleta Gay where a cultural show followed. Students from several Filipino-Chinese schools of Iloilo presented colorful and unique dance numbers.
Ramon Cua Locsin, representing the Filipino-Chinese Community in Iloilo, thanked and gave recognition to those who made the event successful. He also hopes that the Year of the Metal Tiger gives everybody the courage and resilience to face the challenges that lie ahead and may these values transcend one's personal and socio-political interests. In behalf of the Filipino-Chinese Community, he promised continue support in the annual event that fosters unity among the Ilonggos and the said community. He encouraged entrepreneurship as well as economic prosperity and passionate sharing to the needy.