TWILIGHT
Bacolod celebrates Bacolaodiat 2010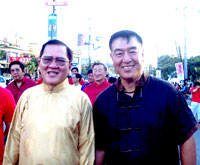 Bacolaodiat Festival Chairman Leonito 'Diotay' Lopue and 888 Chinatown's William Ong.
THE weekend brought thousands of Bacolenos into the festival streets as the city celebrated its 5th BACOLAODIAT FESTIVAL in line with the Chinese New Year that coincided with Valentine's Day.
More than thirty Chinese associations in Bacolod pooled their muscles together as one group called the NEGROS TSINOYS and cooperated to come up with one Chinese New Year festivity enjoyed by people from all masses.
Leading the event was Bacolaodiat Festival Chairman businessman Diotay Lopue cobining efforts and brains with Amity Club's Crispin Chua and the other Tsinoy active leaders like 888 Chinatown Square's William Ong, Andres Valencia Jr., Adolfo Lim, Ben Ortega, James Chua, Alfredo Barcelona, and supported by the Bacolod City Government officials and the different Chinese schools in the city.
Food stalls were in place at the Chopsticks Alley as different stores and hotels had food kiosks in the area the likes of L' Fisher Hotel, 21 Restaurant, L' Sea Dimsum as Western Electronics supported the Friday night with auto audio entertainment with live bands of San Miguel Beer, Pepsi Cola, Rexona and GMA TV network providing entertainment.
It was fun as each one greeted each other Kung Hei Fat Choi and Happy Valentine's in one.
Congrats to Diotay Lopue and Crispin Chua!