Kapehan Sa Hillside: A local TV talk show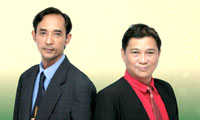 The amiable TV hosts, Pepe Borres and Bong Baltar.
A NEW TV talk show program, "Kapehan sa Hillside" was formally launched this month to cater to local viewers in the 1st District of Capiz covering the municipalities of Pontevedra, Panitan, President Roxas, and Maayon. Hosted by JOSE "PEPE" BORRES and DANILO "BONG" BALTAR, the TV program is broadcasted over Channel 8 of Coop Cable TV every Saturday at 6:00-7:00 P.M. with replays on Sunday 11:00-12:00 noon and Monday 6:00-7:00 P.M.
"Kapehan sa Hillside" is a production of Spell Works Media Productions, a local media outfit with services ranging from production of documentaries, live coverage of events, and shows/programs for television. The program is in cooperation with Pontevedra Vendors Development Cooperative Inc. (PVDCI) which manages the cable TV services in the 1st District of Capiz.
The humble goal of the TV talk show is to help disseminate important information to the local communities for public awareness of the local viewers. Spell Works' production of "Kapehan sa Hillside" is in fulfillment with its dream to produce quality TV journalism in Capiz featuring local events, personalities, and places. The collaboration of Spell Works with PVDCI is in line with the mission of the cooperative to be of "service" to the community. Channel 8, incidentally, is the community channel of the Coop Cable TV.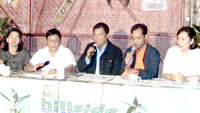 Lights, camera, action! The initial episode of the telecast.
The premier telecast of the TV program over Coop Cable TV Channel 8 was last February 6, 2010 with the initial episode represented by this writer (for Spell Works) and Richard "Bebot" Lena (outgoing manager of PVDCI) and Rowena "Weng" dela Cruz (incoming manager of PVDCI). As Lena pointed out, the partnership between the two entities is "historic in the history of the cooperative."
The name of the TV talk show "Kapehan sa Hillside" was conceptualized with the view that many things are discussed and realized over a "cup of coffee". The coffee habit is meant to "have a break", unwind and muse over both profound and trivial matters. Such is the concept of the TV program, to talk about various topics with different personalities so as to keep the public informed and clued-up of happenings within our local environs. Why at Hillside? Because the venue (Hillside Bar and Resto) provides the relaxing atmosphere meant when having a cup of coffee.
The hosts are local personalities, both well-regarded in their respective professions, with Borres coming from the agricultural/business sector and Baltar, an academic professor, from the educational sector.
So to all subscribers and residents in Pontevedra, Panitan, Pres. Roxas, and Maayon, subscribe to PVDCI Coop Cable TV now and switch on to its Channel 8 every Saturday at 6:00-7:00 PM!. Watch "Kapehan sa Hillside" and make it a regular habit!!!