PURR
Keno Quick Panalo opens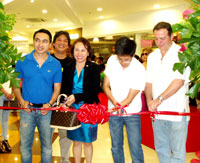 Councilor Lex Tupas, Antonio Reyes, PCSO 6 Director Jeanette Oberio, Kenneth Uygongco and Henri Mazzarelli.
THE Philippine Charity Sweepstakes (PCSO) launched a new and quicker way to win cash. It's the Keno Quick Panalo situated at the Amigo Plaza Mall. The launching was held last January 22. It was graced by Henri Mazzarelli, president of the Total Gaming Technologies, Inc., Antonio Reyes, chief operations officer and Jeanette Oberio, regional director of the PCSO.
"This is a new product of PCSO and is considered as the game of games," Oberio said. She added that the PCSO helps the needy through this effort as well as provide excitement and fun for those who play with its numbers games. "In your ten pesos, the PCSO sets aside 55 percent for the prize and the rest goes to the charity fund," she added.
One Keno Quick Panalo form costs P10. In every Keno draw, 20 numbers from 1 to 80 will be drawn. To win, the numbers that you chose should match the numbers that were drawn. Your winning would depend on how many numbers you chose and how many were drawn.
"This is played every 10 minutes, thus, winning is quick," said Mazzarelli.
MECHANICS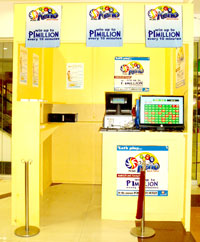 The Keno Quick Panalo booth at the Amigo Plaza Mall.
Choose how many numbers you'd like to play (minimum of 1 and maximum of 10).
Mark the "spot area." Choose and mark your favorite number in the "selection area." If you can't think of a number, the computer can pick one for you. Just mark it as "lucky pick."
If you want to play hi or low, just mark either of the two. In the "amount area" mark the amount that you wish to play for the combination that you chose. You can play 10 or more.
Mark the "multi-game area" to indicate how many times you will play and your chosen combination.
Give the playslip to the Keno attendant so that he or she will provide you with a ticket to confirm the chosen numbers at the game.