I-TRAVEL
Sail on! The Paraw Regatta Festival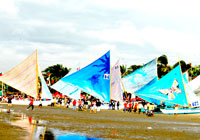 Varied paraws line up during the Paraw Regatta Festival
SOME 38 years ago, the Paraw Regatta Festival came into being. The first venue for this Ilonggo undertaking was the Anhawan Beach Resort, which was then owned and ran by Dr. Joe Cocjin. The group that organized this was composed of Ilonggos.
Now, the same paraw loving Ilonggo group is running this festival, through the Iloilo Tourism Services. This festival has expanded as it involves a lot of other competitive undertakings as well as the festival lasting for two to three days of fun and frolic at the Arevalo Beach, or popularly known as Villa Beach. The beachfront of Tatoy's Manokan is still the venue of the festival.
So, on February 20 and 21, all roads will lead to Arevalo's Villa Beach, right in front of Tatoy's Manokan.
See you in Villa Beach!