Ballet Philippine performs in Iloilo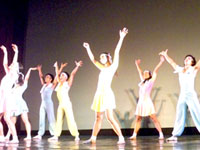 Intense, dynamic, intimate!
These words describe the ambiance inside SM Cinema 6 when Ballet Philippines performed last February 3.
The show's theme was "Neo Filipino in a Time of Change," and it was a collaboration of Filipino dances in ballet dance.
It was part of their nationwide tour, a celebration of Ballet Philippines' 40th anniversary.
Ballet Philippines was founded in 1969 by Alice Reyes. It is widely recognized today as the cornerstone of Filipino cultural identity. Being the resident dance company of the Cultural Center of the Philippines, Ballet Philippines is recognized globally as the flagship company in ballet and contemporary dance.
The company weaves a colorful portrayal of Philippine's rich and diverse cultural heritage from the range of classical ballets and internationally distinguished masterworks to indigenous works of the Filipino folklore.
Headed by its artistic director Paul Alexander Morales, Ballet Philippines continues to entertain and move to appreciate every Filipino to the uniqueness of our art and culture.