Iloilo guv eyes state of calamity for Western Visayas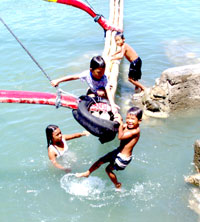 Children plunge on the water at Fort San Pedro to stave off the heat of the sun.
Iloilo Governor Niel Tupas Sr. will push for the declaration of Western Visayas under the state of calamity amid the onslaught of the El Niño phenomenon affecting five out of six provinces in the region including Iloilo province.
Tupas made the pronouncement after his meeting with the Department of Agriculture (DA) officials to determine the extent of damage brought by El Niño to farmlands in the region.
The governor will also recommend the conduct of cloud seeding to mitigate the effects of the dry phenomenon although he admitted that the measure is not very effective as the rain may fall in areas not intended during cloud seeding operations.
Data from the DA Regional Office shows that in Iloilo province more than 22,000 hectares of farmlands have already been affected by the El Niño phenomenon with an estimated worth of damage to crops of around P518 million.
On the other hand, in Guimaras province DA reported that 393.57 hectares of farmlands are affected while in Antique 339.61 hectares.
DA 6 Regional Technical Director Remelyn R. Recoter said about 26,000 farmers in the provinces of Iloilo, Antique and Guimaras are affected by the dry phenomenon which is expected to prevail until June this year.
Recoter, during a consultative and planning workshop with the Information Officers of the DA attached agencies, said validation is still being made on the data they have received as they continue to get more reports from their field offices in other provinces.
Meanwhile, DA 6 Regional Executive Director Larry Nacionales said in a PIA-Cable Television program that among the proposals in their contingency plan submitted to the DA central office is the provision of a fuel assistance for "tasok" or shallow tube wells to help cushion the impact of the dry spell.
Nacionales said that there are areas in Western Visayas with existing shallow tube wells, and "based on our inventory we have around 2,700 shallow tube wells in the region".
Nacionales emphasized during the said PIA-CATV program that they will look into those that are still functional and give some fuel assistance.
Should the plan be approved by the DA central office, this could help alleviate our farmers from the shortages of irrigation water for their crops.
Under the proposed plan, Nacionales said that they will extend P1,000 for one-hectare lot with crops on its vegetative growth stage; and P500.00 for crops under reproductive stage.
On the hand, the National Food Authority (NFA) has assured a sufficient supply of rice in the region despite the damage brought by El Niño on rice farms.
In an interview with Aksyon Radyo Iloilo, Vilma Zarraga, asst. regional manager of NFA, said that Western Visayas has sufficient buffer stock of rice which the agency has imported from Vietnam recently.
Zarraga, however, admitted that the volume of rice being sold by farmers to the NFA has gone down because of the El Niño. (With reports from PIA)