After giving headache to local police authorities, members of basag-kotse gang were finally defused... well, at least for now.
Five hours after their last basag-kotse operations Tuesday night, Arwin Morilla, 28; Francisco Reyes, 32, and; Benjamin Salvacion, 38,
A binge of basag-kotse incidents has again put to test the capability of the members of the Iloilo City Police Office (ICPO).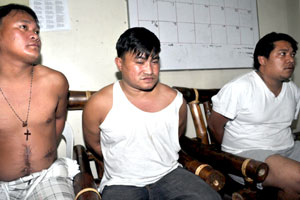 ARNOLD ALMACEN / PPP ILOILO
Presidential Legal Counsel Raul Gonzalez Sr. said "it is ridiculous" to drag his name in the controversy involving his security detail PO1 Ronnie Refugio and the four children of Mayor Jerry Treñas.