PURR
Chito Salazar installed as UI President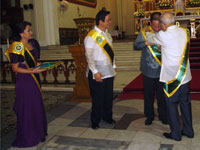 Oscar Hilado, chairman of Phinma, Inc. puts the presidential medallion on UI-PEN President Dr. Chito Salazar while Johnny Hernandez, president and general manager and Jeanette Fabul, look on.
THE fourth president of the University of Iloilo has been installed and he's no less than Chito Salazar.
The investiture was held at the Molo Church with the UI-Phinma Education Network (UI-PEN) Board of Directors, school officers and faculty as well as Salazar's family, attending.
Prior to the turnover of the presidential medallion, university mace and administration of the oath of office, was a mass officiated by Archbishop Angel Lagdameo and Bishop Gerardo Alminaza along with three priest celebrants.
Ramon del Rosario, chairman of the board of UI-PEN, reiterated their commitment to education for the future of the Filipinos, thus the acquisition of the university which took them seven years.
Salazar, in his inaugural speech, revealed that being the president of the university is like a homecoming to him. His mother is an Ilongga from Roxas City and he used to spend several summers here. He promised Ilonggos that UI will focus on professional in-demand courses that enhance general abilities and technical skills, targeting the D income masses. Saying that they will change the way they do education, thus, the no-frills and brass knuckles strategies will be applied. "We will reduce education to the most important and essential elements like good facilities and well-trained teachers The standard will no longer be compromised. Those who don't qualify for graduation, will not graduate," he said. This means, the phrase "pasang-awa" will no longer be applied to UI-PEN students.
He ended his speech with the school's battlecry, "UI and I, Walang Imposible."