Frances Aimee Tiu for the flavors of Eon Centennial Hotel's "Frances"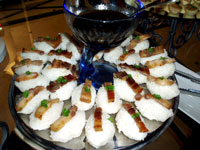 YUMMY: Some of Frances' creations during the opening party of "Frances"
EON Centennial Hotel delivers a new dining experience with its restaurant "Frances," which opened last year. Its slogan, "Flavors redefined..." is quite tempting, as it invites diners to savor the delectable and well-cooked dishes that the restaurant provides.
The food and the good service make diners come back for more of Frances and the woman behind these culinary treats is Frances Aimee Tiu, daughter of Felix and Bernadette Tiu, founders and owners of Eon Centennial Hotel. The restaurant was named after her.
Aimee loves to create just about any dish she could think of. "However, in Frances, we serve Filipino, Japanese and European dishes," she said.
Frances Aimee is a graduate of Hotel and Restaurant of St. La Salle Benilde. Then, she studied culinary arts in the American Hospitality Academy. She experienced hands-on restaurant work at the Bistro Filipino under Chef Laudico. Now, she works full time as Food and Beverage Manager of EON Centennial Hotel.