Hail the festival queens!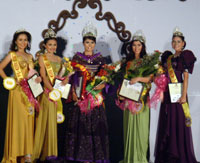 THE FESTIVAL BEAUTIES. Third runner-up Angelyn Presidente, 1st runner-up Aerille Gife Salabao, 2010 Iloilo Festival Queen Kristina Cassandra Soriano, 2010 Hiyas sg Iloilo Sandra Marie Amparo and 2nd runner-up Demi Patria Jainga.
TWENTY two judges have decided on Iloilo's Festival Queen and Hiyas sg Iloilo during the recently concluded pageant held at Robinsons Place Iloilo.
The 2010 Iloilo Festival Queen is Kristina Cassandra Soriano and Hiyas sg Iloilo is Sandra Marie Amparo of the University of the Philippines in the Visayas and West Visayas State University (WVSU), respectively.
Their runners-up were: first runner-up Aerille Gift Salabao of AMA Computer College, 2nd runner-up Demi Patria Jainga of Central Philippine University and 3rd runner-up Angelyn Presidente of WVSU.
The beauty search comprised of several events prior to the pageant, namely: Mags fashion show, swimsuit competition, gown competition and interview competition. Alex Soncio designed the ladies' stunning gowns.
The judging was fully computerized, thanks to AMA Computer Learning Center.
Prior to the pageant proper, the guests were treated to cocktails spruced up by chef Pauline Banusing while they listened to the RCP Band headed by Dr. Regil Palmares.
The beauty search is an annual project of the Sr. Sto. Nino Festival Queen of Iloilo, Inc. led by Eddie Juatas and Zedrick Seneres as part of their devotion to the Child Jesus. The pageant is being held during the Dinagyang Festival.
The proceeds of the project was shared to the Cofradia de Sr. Sto. Niño of San Jose Parish of Iloilo City and other religious institutions in need of financial assistance.