Panubli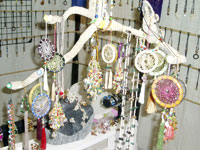 Trinkets that bring good luck, good health, financial abundance and more.
"Panubli" means heritage. And for Gina Apostol, the word strikes a serious note because she hopes that her passion and creativity towards arts and crafts will be inherited by future generations.
Gina started off with ceramics, forming useful products and decors out of the lowly clay and out of her sheer artistry. Being a visual artist has its benefits because Gina is able to put colors on her products, thus brightening every home where her clay ceramics are used or displayed. Add to that is her expertise in making sculptures.
It was in 2007 when Gina decided to put a name to her business. Now called "Panubli Arts and Crafts", Gina has expanded to making trinkets made of precious stones and exotic bones, as well as sell some products made from indigenous products that her fellow artists have created.
"I saw a niche in this market because the materials are unique and no designs are being duplicated," said Gina.
Her designs were already exhibited during the Buy Pinoy fair in Manila and Cebu. Foreign nationals appreciate her exotic designs, thus making Panubli Arts and Crafts a sought-after venue for purchase of souvenir items as well.
A traveler, Gina discovers precious stones and indigenous materials from the different places she'd been. While other people ignore the earth's abundance, Gina brings them home. And then, with her apt hands, she transform these into useful things that we can show off and pass on to others.
* * *
Panubli Arts and Crafts holds weekly exhibits in varied malls in the city. For more information, contact 0908-6323-407.