Dinagyang … still the best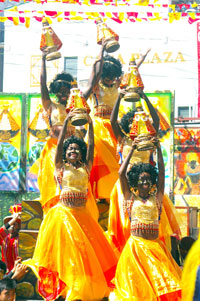 Tribu Paghidaet.
THE Iloilo Dinagyang Festival has proven again that it is the best tourism event in the country. The Iloilo Dinagyang Foundation, Inc. (IDFI) with the support of the City Tourism Development Office under Ben Jimena, city tourism officer, local government units and private sector partners, have made the festival even better.
This year, the costumes were more colorful and unique, the music was one-of-a-kind and the dance choreography and energetic performances, awed the tourists who saw the spectacle.
The religious aspect of the festival was deeply portrayed by the tribes, as well.
Dinagyang Ati Competition Results
Major Awards Prize
Champion, PAGHIDAET 100,000 plus 50,000 from Senator Manny Villar
1ST Runner Up, BOLA-BOLA 50,000 plus 30,000 from SMV
2nd Runner Up, PAN-AY 40,000 plus 20,000 from SMV
3rd Runner Up, SALOGNON 30,000
4th Runner Up, SILAK 20,000
Dinagyang Minor Awards
Best in Performance, PAGHIDAET 10,000
Best in Choreography, PAGHIDAET 10,000
Best in Music, PAGHIDAET 10,000
Best in Costume, PAGHIDAET 10,000
Best in Street Dancing, PAN-AY 10,000
Best in Discipline, PAN-AY 10,000
Best Musical Director, PAGHIDAET
Special Awards
Best Costume, PAGHIDAET 5,000
Best Costume Designer, PAGHIDAET 5,000
Best Headdress, PAGHIDAET 5,000
Best Choreographer, PAGHIDAET 5,000
Best in Discipline, PAN-AY