5 basag-kotse suspects nabbed after stealing spree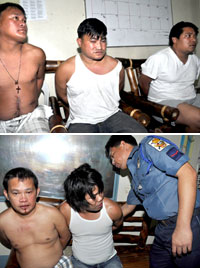 Police successfully rounded up the five suspects in the spate of basag-kotse cases in Iloilo City last Tuesday night.
ARNOLD ALMACEN/ PPP ILOILO
After giving headache to local police authorities, members of basag-kotse gang were finally defused... well, at least for now.
Five hours after their last basag-kotse operations Tuesday night, Arwin Morilla, 28; Francisco Reyes, 32, and; Benjamin Salvacion, 38, all residents of Silway, Brgy. West, Gen. Santos City; Faustino Lumaniog, 38, of Libmanan Camarines Sur and; Jade Cariño, 29, of Landheights Tambo Brgy Sabang, Lipa City were arrested inside their occupied room at Moritz Hotel at Lopez Jaena St., Jaro, Iloilo City.
Apparently, it was the suspects' complacency that finally nailed them.
Police got hold of the suspects' whereabouts after reports of the presence of a blue Isuzu Trooper with plate number GRH-257 parked in front of the hotel.
In a follow-up operation, members of Jaro Police Station led by Chief Insp. Orly Gabinete and the Iloilo City Police Office (ICPO) Intelligence Section led by Senior Insp. Malong opened the vehicle and saw several bags and laptops discovered inside the vehicle.
This was followed by the arrest of the suspects who were billeted at the hotel's room 202.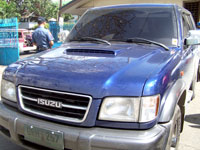 The Isuzu Trooper used as getaway vehicle by the basag-kotse suspects.
EC GARCIA
Recovered from their possession and control were four laptops, power point projector, assorted jewelries, wallets, cash amounting to P2,419, and a Samsung digital camera.
Further, a fake P1,000 bill bearing SN GH53144 and P100 bill bearing SN BL 48123 were recovered from the possession of Cariño.
After the five suspects' arrest, police had to check one of the hotel rooms after reports that another group of suspects was also inside the hotel.
But after a check, police yielded no one.
Meanwhile, police recovered a certificate registration that the vehicle was owned by a certain Marlon Viloria of South Cotabato.
But in a check made, the vehicle was sold to Cariño in the amount of P450,000.
The vehicle, with a sticker of PNP, Doctor on Call, and SWAT, is now impounded at Jaro Police Station.
Admission
With the evidences recovered in their possession, Morilla readily admitted that they were the ones who did the basag-kotse operations.
When asked how long they have been conducting it, the suspect answered that they were new to the trade.
"Binabasag naming ng bato," he added.
It was notable that during their arrest, no firearm or bladed weapon was recovered in the suspects' possession.
Meanwhile, Morilla also alleged not to have been incarcerated for any criminal offense.
Financier
Earlier, it was surmised that Cariño's group is financed by another individual.
If not, it was theorized that they established a contact in the area.
But Jaro Police Station chief Chief Insp. Orly Gabinete said that they have yet to check on the said reports.
In the initial interrogation, one of the suspects claimed that Cariño, their leader, borrowed P20,000 from a loan shark in Gen. Santos City before going to Iloilo City.
Gabinete added that they received reports that it was the suspects' third time to stay at Moritz Hotel.
"They were known there as the Five Brothers," he stated.
Reward
Just like the police authorities, Iloilo City Mayor Jerry Treñas expressed happiness over the said development. (Pls. see related story)
"I'm very happy. I commend our policemen who arrested the suspects," he said while assuring that commensurate reward will be given to members of arresting units.
But the mayor also reminded the public not to be complacent and further appealed to continue to be vigilant to avoid similar incidents from happening again.