Cuevas orders surrender of Rapiz' PNP badge, service firearm
Iloilo's controversial top cop, Police Chief Inspector Leroy Rapiz has been placed under preventive suspension following an Internal Affairs investigation on three administrative complaints filed against him.
BACOLOD CITY -- The United States Ship (USS) Chafee manned by the U.S. Navy docked on the waters of Bacolod Saturday with Commander Heedong Choi as the ship's Commanding Officer.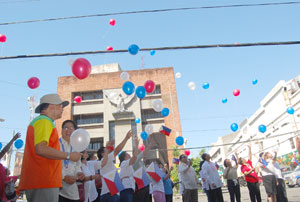 A.CHRIS FERNANDEZ
Three Ilonggo soldiers under the 11th Infantry Battalion (11th IB) stationed in Brgy Trinidad, Guihulngan, Negros Oriental were brutally killed by suspected New People's Army (NPA) rebels while on their way to withdraw their salary at the town proper last Saturday, May 23.