Suspension order out anew on Rapiz
Cuevas orders surrender of Rapiz' PNP badge, service firearm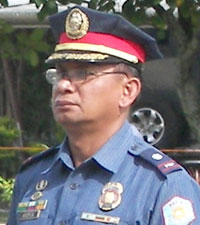 Rapiz
Iloilo's controversial top cop, Police Chief Inspector Leroy Rapiz has been placed under preventive suspension following an Internal Affairs investigation on three administrative complaints filed against him.
Docketed as Admin Case No. IAS-FEO9-0017, the Order initially came from the Regional Internal Affairs Service (RIAS) 6 and was approved yesterday by Chief Superintendent Isagani Cuevas. Cuevas is the Police Regional Office (PRO) 6 director.
The disclosure was made in yesterday's regular conference with members of the Iloilo Police and Defense Press Corps led by ABS-CBN Iloilo's Nony Basco. Radio reporters immediately broke the news along with the taped statement of Cuevas saying that orders are also out for Rapiz to surrender his police badge and government-issued service firearm.
Conflicting reports though raised questions on the effectivity of the suspension order. As per RIAS report, the evidence of guilt is serious and strong thus the decision to place him under a 90-day preventive suspension. The suspension, according to the RIAS charge sheet, was to take effect upon approval of the disciplinary authority.
Yet Basco in a separate interview was reportedly told that Rapiz still has another ten days to appeal his latest fate.
The latest charges against Rapiz included grave misconduct of malfeasance, gross incompetence in the performance of duty and serious neglect of duty.
To note, Rapiz also faced a similar 90-day preventive suspension back in January. Yet for unknown reasons, he did not get to serve a single day of said Order. Sources told TNT that the January RIAS report was somehow brought to higher-ups where it eventually 'evaporated.'
The charges were pursued in the capacity of Rapiz as the then Group Director of the 608th Provincial Mobile Group. Said acts, the RIAS wrote, constituted " a clear violation of Human Rights protected and guaranteed under Article 3, of the 1987 constitution and the existing rules and regulations governing the Philippine National Police in relation to NAPOLCOM Memorandum Circular No. 2007-001."
"As part of the due process, a memo requiring respondent to comment within Ten (10) days upon receipt of an order as to the Motion to place him under a Ninety (90) day preventive suspension filed by Marnie John Asajar pending hearing of this instant case was sent to him thru the Chief, RPHRDD his present unit assignment and the same was received by him on April 21, 2009," excerpts of the RIAS report went. "Despite of such memorandum requiring him to comment within ten (10) days upon receipt thereof, respondent PCI Rapiz failed and refused to comment after the lapsed of ten (10) days."