Kids on the Dance floor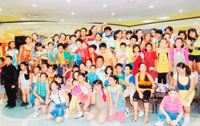 Batch 2009. Students of JPC Street
Dance & Dance Sports.
Learning Hiphop, Jazz, Ballet and many other dance moves is on top of summer workshops for students in JPC Production dance studio at Robinson's Place, Iloilo.
Last April 26, the JPC Production presented 'Dance Party' showcasing its grooving students performing street dance and dance sport at Robinson's Food Court Lobby. Most of the performers were kids impressing their parents with their dancing talents.
Tito Clown was also there performing his magic tricks that definitely entertained the kids.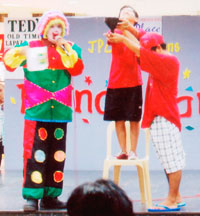 Tito Clown performing his magic stint
with one of the JPC Productions students.
Parents were glad to have enrolled their children in the dance workshop. Developing self-confidence and bringing out the potentials are what JPC Productions dance studio promise to their students.
Jun Patrimonio Cortel of JPC Productions, runs his dance workshop every summer for almost eight years, teaching those who are interested to spend their summer improving their skills in dancing. This year's workshop lessons are from Mondays to Saturdays at 8 am till 8 pm, and culminated last May 15.
On Sundays, variety shows in line with the workshop are organized to assess the student's improvement and to expose them on public.