Tinubkan: The art of Panubok in a fashion show
Witness this art of embroidery today, 5 PM, SM City Iloilo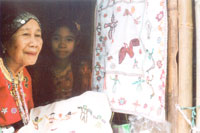 Conchita Gibaliga (tribal name is Ariring),
a recognized master of Panubok.
Today at 5PM, witness the art of Panubok by the Panay-Bukidnon women, in a fashion show at SM City Iloilo.
The Panay-Bukidnon is an ethnic tribe found in Central Panay. Panubok is a traditional way to adorn clothes using threads pulled from old blankets intricately stitched on a "katsa" or flour sack. Its origin can be traced back in Brgy. Tabon, Tapaz, Capiz where women are told to be lazy. They refuse to work in the fields they would stay in the house and groom themselves. This laziness paved way to the art of embroidery, the "Panubok".
The event, called Tinubkan, will feature six recognized masters of Panubok.
Tinubkan is the first launching project of the Kultura Kusog Ko Inc., an NGO that promotes and supports in the preservation of Indigenous Culture and Tradition.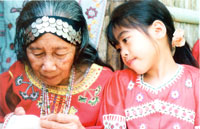 Lola Conchita and grandchild Jollyny
Gibaliga.
These patterns were embedded in the contemporary clothings designed by Jhy Ming Gonzales, chairperson of the newly organized KUKUKO INC. She conceptualized this project to expose the potential of the Panubok or traditional embroidery as an authentic representation of Panay culture, just like the Tinalak of the Lumads in Mindanao.
Each design took inspiration from the five elements of nature – fire, wind, water, earth and ether. Most of the cuts are classic and imperial with bell sleeves while others are a bit modern. "But the patterns used are traditional like "matampunay" (eyes of the punay bird) and sikag sikag (fishbones)," she said.
There are eight embroiderers who shared their skills to finish the collection. The youngest is Angelie Gilbaliga, 13. The oldest is her grandparent Conchita Gilbaliga, 86 and one of the few Binukots who are alive today.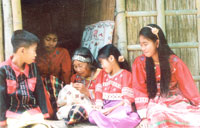 Lola Conchita with her grandchildren
Alvin, Rolinda, Jollyny and Angelie.
The highlight of the fashion show is the giving of recognition to the identified masters of Panubok in the community in Calinog and Tapaz one of them is Lola Conchita whose enthusiasm and delight to express herself through embroidery is remarkable considering her old age and her eyes blurred by cataracts.
KUKUKO INC. helps in establishing resource centers and encouraging mountain barangays to form their own People's Organization and give them assistance in proposing projects for culture and livelihood to government agencies such as NCCA and the provincial and local government. "So far, we have ongoing projects in Calinog from NCCA Grants," Gonzales said.
"We are looking for pledges such as sewing machine, textiles and threads," she added.
"I am urging the Provinces of Central Panay, that includes Antique, Iloilo, Capiz and Aklan, as well as the local government units in each province, to support this livelihood program for women in the mountains by having one of their official uniform every year accentuated by the traditional patterns of Panubok. It will extremely help the lives of families in the mountains especially during the lean season," she concluded.