Double Treat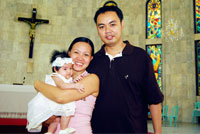 The Sang-alans. Baby Leighanna Shanen,
Menen and Rodolfo.
Proud parents Rodolfo and Menen Sang-alan gathered their close friends and family members to the Spousal of Our Lady Parish Church in Mandurriao to witness the baptism of their lovable baby girl named Leighanna Shanen.
Acting as godparents were all of Menen's officemates at The News Today and Rodolfo's colleagues in the workforce of the Philippine National Police.
Rev. Fr. Emmanuel Tuberada of the Mandurriao Parish officiated the sacrament of baptism with such solemnity it makes one present feel the great joy of being a member of the Catholic faith.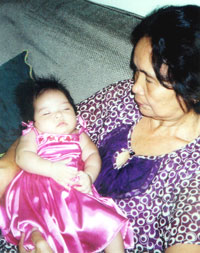 Baby Leighanna and Lola Angie.
After the rites, everyone proceeded to the Sang-alan residence where a groaning buffet table filled with a myriad of gastronomic delights feasted everyone's eyes. Yummy Valenciana, Beef and Goat Calderetta, Pancit Molo, Fish in Sweet and Sour Sauce, Mixed Sauteed Vegetables, Chicken Estofado, Lechon, three different kinds of salads and more. The kingly feast was also in celebration of Rodolfo's birthday which makes that day a double treat for everyone!